Our Mission
The Open Road Harley-Davidson® Owners Group Chapter is a non-profit, volunteer organization of Harley-Davidson® Enthusiasts who are highly respectful and strive to create and maintain a safe, engaging and fun culture filled with riding and fellowship. We value our local community and take pride in giving back locally for the betterment of our chapter, Open Road Harley-Davidson®.
---
The Open Road Chapter is made up of a diverse group of riders:  new and experienced who all share the passion for riding and having fun.

 Be sure to check out what the Open Road Fond du Lac H.O.G.® Chapter: have been up to on our Facebook page:
Want to be a part of the Open Road HOG Chapter?
Click here for our downloadable form!
---
2021 Primary Officers
---
Chapter Members,
Who is ready to start riding in 2021! H.O.G. Huddles will resume on February 6th in the upper showroom at Open Road Harley-Davidson at 9:30 am.  
We ask that everyone respect physical distancing at all times inside and outside of the building. The chapter will provide individually wrapped hospitality items but cannot provide coffee a this time.  
When you enter the building please use the only the main entrance and make use of the hand sanitizing station there.  
We do encourage you to bring your own mask if you have one.  If you do not, we have masks and gloves for those who choose to use them while here. We look forward to seeing you soon, and we appreciate your patience with these temporary precautions.
All the best, and keep the shiny side up!
Brad J. Mintie
Open Road H-D
Business/H.O.G. Manager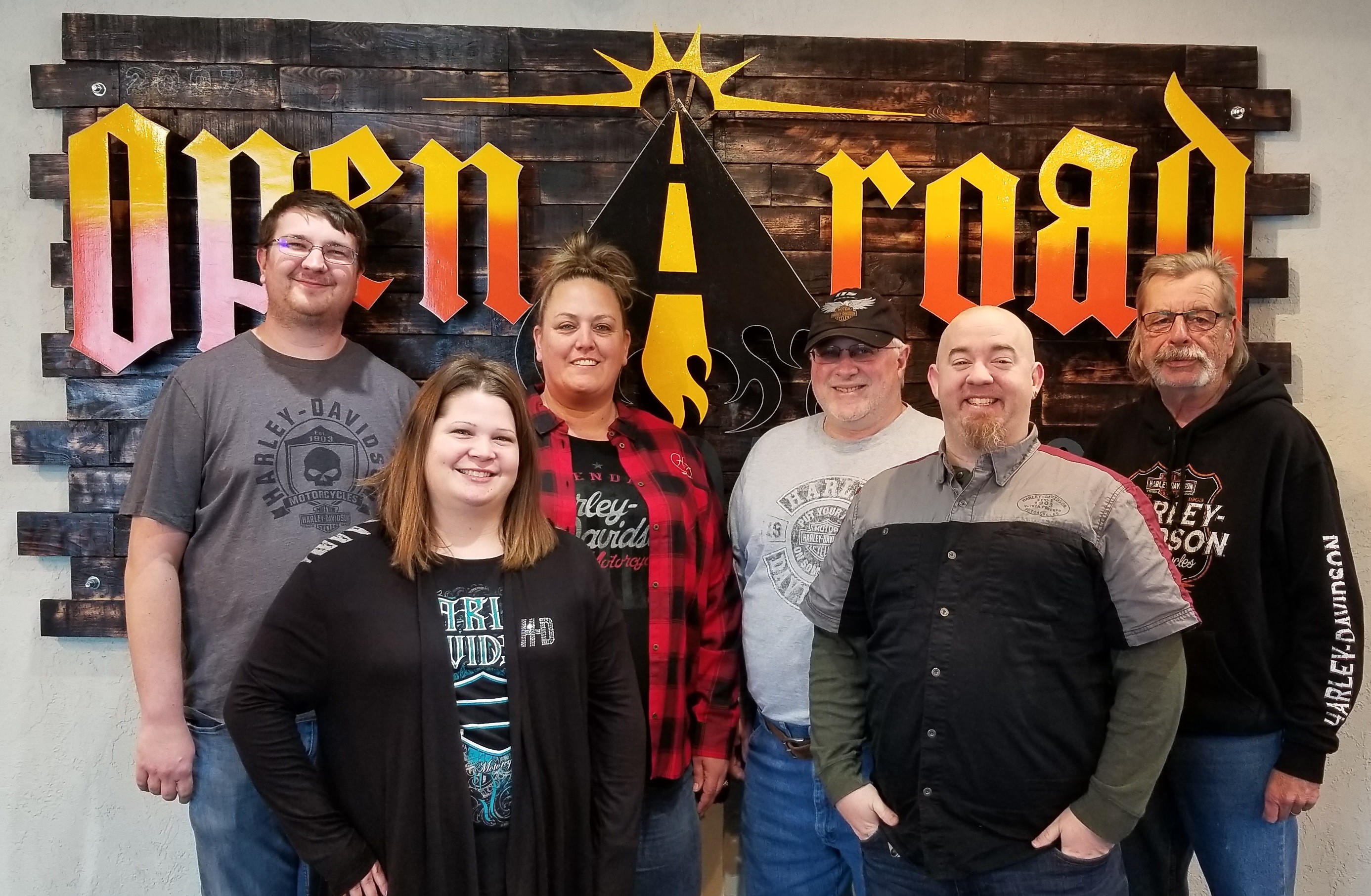 "From Right; Michael Stoffregan (Director), Brad Mintie (H.O.G Manager), Dan Hunt (Assistant Director), Carly Kastein (Membership Officer), Sarah Davis (Secretary/Newsletter),  Haydn Davis (Activities Officer)
Director
Assistant Director
Secretary/ Newsletter 
Membership Officer
Activities Officer
Dealer Prinicpals

Pete Johnson & Lori Thiel

H.O.G. Manager